Treat ADHD Symptoms in West Bloomfield, MI
Children are naturally prone to daydreaming, ignoring homework, and wanting to play. But when they exhibit persistent attention issues, restlessness, procrastination, and disruptive behavior, it may indicate an underlying struggle with ADHD.
Whether you've tried other methods unsuccessfully or are looking for non-drug solutions to symptoms of ADHD, The Center for Integrative Psychology offers a number of cutting-edge treatment options. We equip our clients with the tools and life skills they need to improve their everyday routines. With our therapies, clients learn to control their impulses, stay focused, think more flexibly, finish tasks successfully, respond appropriately to their circumstances, and feel better about themselves.
These techniques work for adults as well, and our Neurotherapy team will be happy to guide you on your journey of self-development toward mental wellness.
Are you ready to change your life? Contact the Center for Integrative Psychology today to get started.
How Our ADHD Treatments Work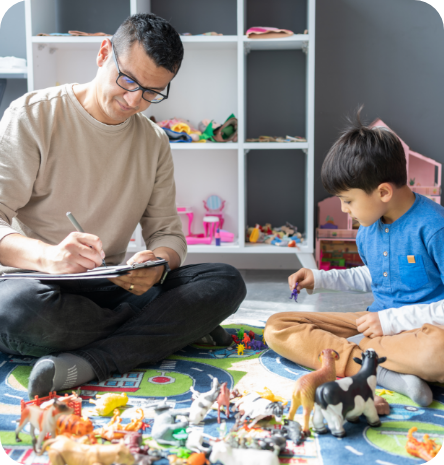 Individuals with ADHD struggle with impulsive tendencies, hyperactive behavior, and lack of focus. These issues often get in the way of personal development and interfere with daily tasks, leading to frustrated teachers or coworkers, and disappointed friends.
At the Center for Integrative Psychology, we use cutting-edge Neurotherapy to help clients tackle these obstacles. Using the power of modern technology, our Neurotherapy team teaches clients to practice unique mental exercises that restructure their thinking. Through these neurotherapy techniques, clients are able to improve their attention span, decrease impulsivity, and develop flexible problem-solving skills. With our progressive treatments, children and adults can see fundamental changes that better their daily lives.
Get started on your ADHD treatment plan by contacting the Center for Integrative Psychology today.
Information About ADHD Treatment
What is ADHD?
The American Psychological Association (APA) defines attention-deficit/hyperactivity disorder (ADHD) as a behavioral condition that affects an individual's ability to focus on tasks and perform everyday routines. Symptoms can vary but individuals with ADHD are often known for being fidgety, restless, noisy impulsive, and somewhat socially awkward.
At the Center for Integrative Psychology, we use Neurotherapy to regulate the behavior of children and adults with ADHD.
Contact us today to learn how you can get started with treatment.
What does ADHD look like in adults?
ADHD symptoms in adults can include forgetfulness, impulsiveness, inability to focus or prioritize, perpetual restlessness, difficulty keeping quiet, and more. A clinical diagnosis can help determine if ADHD is the underlying condition for such issues, but brain optimization techniques at CIP may be able to help alleviate these symptoms.
Contact us today to learn how you can get started with treatment.
How can I support my child during their ADHD therapy?
Throughout our therapeutic process, parents are trained on how to optimize their child's progress. We encourage the development of a loving emotional connection between child and parent along with setting consistent expectations and limits for misbehavior. We believe in supporting our young clients with a strong foundation that will truly help them grow.
Is Neurofeedback a scientifically-approved treatment for ADHD?
LENS Neurofeedback is an FDA-approved, state-of-the-art technology that helps the brain shift out of dysfunctional patterns with no conscious effort required on the part of the client. This makes it an especially effective treatment for children. While LENS is not a cure for ADHD, psychological research supports LENS' effectiveness in reducing ADHD symptoms.